Booking Travel to Cambodia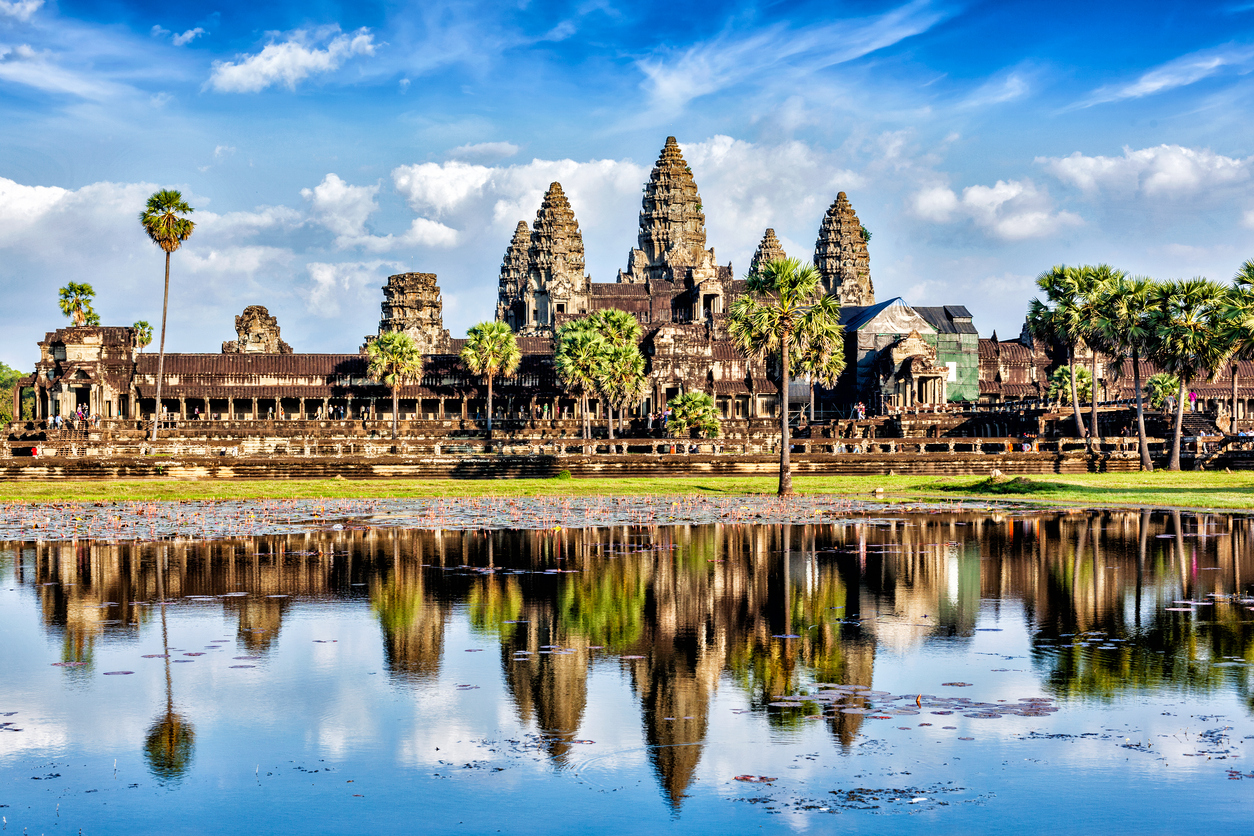 Will you be passing through Cambodia on your upcoming travels to Asia? Officially known as the Kingdom of Cambodia, this country is located on the southern portion of the Indochina Peninsula in Southeast Asia. Whether you plan to visit the capital of Phnom Penh or some of the smaller hill tribes, there's plenty to do and see in this Asian country.
To maximize your time here, be sure to get help from an experienced travel agent at WorldTravelService®. We make planning your vacation a breeze by arranging flights, accommodations, and activities for you and your travel companions in various Cambodia locations, including:
Phnom Penh
Battambang
Siem Reap
Kep
Poipet
Stung Treng
Pailin
And more!
As the second largest independently-owned travel agency in the Mid-Atlantic, we are confident that you'll find absolutely everything you need with the assistance of our travel booking agents.
Plan your illuminating vacation to Cambodia by booking your adventure with WorldTravelService® today!
Planning a Visit to Phnom Penh
No trip to Phnom Penh is complete without a tour through the Royal Palace Complex. The Silver Pagoda is particularly impressive, boasting some of the most beautiful architecture in Southeast Asia. You'll be drawn in by the grand exterior and marvel at the flooring inside, which is comprised of five tons of silver tiles. This is how the Silver Pagoda got its name.
On a more serious note, the Choeung Ek Genocidal Center is something you can't miss while visiting Phnom Penh. Located a short bus ride from the city, this center strives to ensure history doesn't repeat itself. An audio guide in English explains the atrocities that happened when victims of the vicious Khmer Rouge were brutally murdered in the 1970s. A sobering visit to this site is one you'll never forget.
No matter what your visit to Phnom Penh includes, the skilled team at WorldTravelService® is here to work out the details for you. We'll help pinpoint the types of sites you want to visit. Then, all you have to do is catch your flight, check into your hotel, and enjoy your vacation!
Making the Most of Your Trip to Battambang
The official religion in Cambodia is Theravada Buddhism. A visit to Battambang gives you the opportunity to visit the historic Wat Banan Buddhist Temple located a short ride from the city. Just be prepared to hike up more than 350 stairs to reach this holy site. Once you do, you'll marvel at the ruins of this once-active temple in rural Cambodia.
Set aside one evening for a trip to the Battambang Bat Caves. Outside the caves, you can purchase food and drinks and visit the monument built to commemorate the genocide victims of the 1970s. At dusk, sit back and watch as thousands of bats emerge from the caves for their sunset hunt. It's an amazing sight to behold!
For more ideas on where to visit in Cambodia, connect with the talented team of agents at WorldTravelService®. We'll suggest the top cities and destinations based on your interests and budget. Then, we take care of the logistics so you can anticipate an enjoyable vacation without all the stress of making travel arrangements.
Plan Your Perfect Vacation to Cambodia with WorldTravelService
®
The team of agents at WorldTravelService® is dedicated to ensuring your excursion meets all of your needs. We have the experience, resources, and connections to ensure proper safety measures are met and that your requests are made into realities. With WorldTravelService®, nothing is more important than your total satisfaction.
Book your vacation with a WorldTravelService® agent today, so you don't miss out on Cambodia's top sites!