Booking Travel to Japan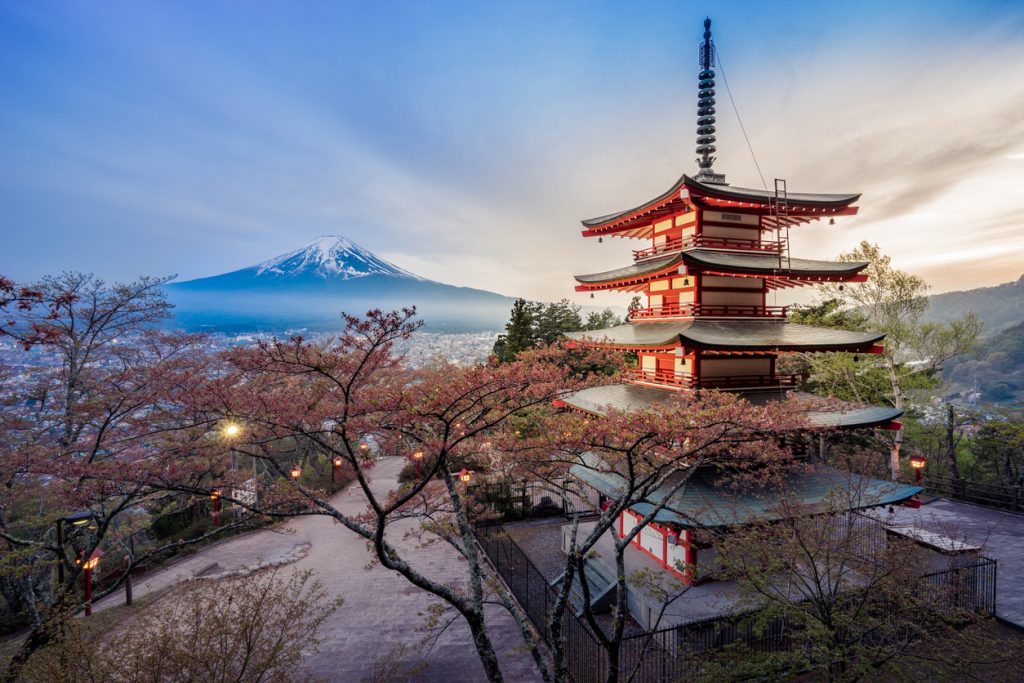 Whether you've traveled to Japan in the past or you're looking to plan your first Japanese adventure, there are so many sights to see and things to do in this beautiful Asian country! From the well-known urban scenes of Tokyo to the more rural areas of Takayama, when it comes to planning leisure travel in Japan, there's something for every type of traveler.
With the assistance of the skilled agents at WorldTravelService®, you won't have to miss a single sight during this trip of a lifetime! We will be able to arrange flights, accommodations, and activities for you and your travel companions in various locations across Japan, including:
Tokyo
Kyoto
Nara
Nikko
Takayama
Kamakura
Hiroshima
And more!
As the second largest independently-owned agency in the Mid-Atlantic, we are confident that you'll find absolutely everything you need with the assistance of our travel booking agents.
Find the Japanese destination you've always dreamed of by booking your adventure with WorldTravelService®.
Planning Your Travel to Tokyo
As the capital of Japan, it's no wonder that Tokyo is absolutely packed with people! The hustle and bustle of this metropolis offers boundless opportunity to experience Japanese culture firsthand. Sample authentic sushi or other Japanese cuisine, admire the gorgeous gardens (particularly as the cherry blossoms burst into bloom in the springtime), or venture to genuine Japanese fish markets to get the true Tokyo experience. Snap photos of the iconic Tokyo Tower or the more modern Tokyo Skytree, and of course, visit the symbol of the city, the Senso-Ji Temple, for a taste of traditional Japan.
Whether you know exactly what you want to see upon arrival to Tokyo, or you're not sure what you want to do but you know what type of trip you want to have, our team of skilled agents at WorldTravelService® is here to help. We'll plan just the Japanese trip you and your family (or your co-workers) have been dreaming of, and we won't leave out a single detail.
Get Ready for Your Trip to Kyoto
Though the two may contain the same letters, Kyoto and Tokyo couldn't be more different! In direct contrast to Tokyo's bustling urban landscape, Kyoto is a distinctly zen city (true to its Japanese heritage). If you're hoping that your trip to Japan will be full of ancient temples and shrines that are symbolic of the Japanese culture, this is precisely the city that you'll want to travel to. From the popular Golden Shrine to the quiet, hidden bamboo forest of Arashiyama, Kyoto is a place that is certainly made for sight seeing and exploration.
If you think Kyoto might be the spot for your leisure travel to Asia, our agents at WorldTravelService® are here to plan the ideal trip for you and your companions. We'll handle everything from flights to accommodations to excursions and beyond, so all you have to do is show up and enjoy your trip!
Plan Your Ideal Vacation to Japan with WorldTravelService
®
The team of agents at WorldTravelService® is dedicated to ensuring your excursion meets all of your needs. We have the experience, resources, and connections to ensure proper safety measures are met and that your requests are made into realities. With WorldTravelService®, nothing is more important than your total satisfaction.
Book your vacation with a WorldTravelService® agent today to experience Japan in all the best ways!