Booking Travel to Thailand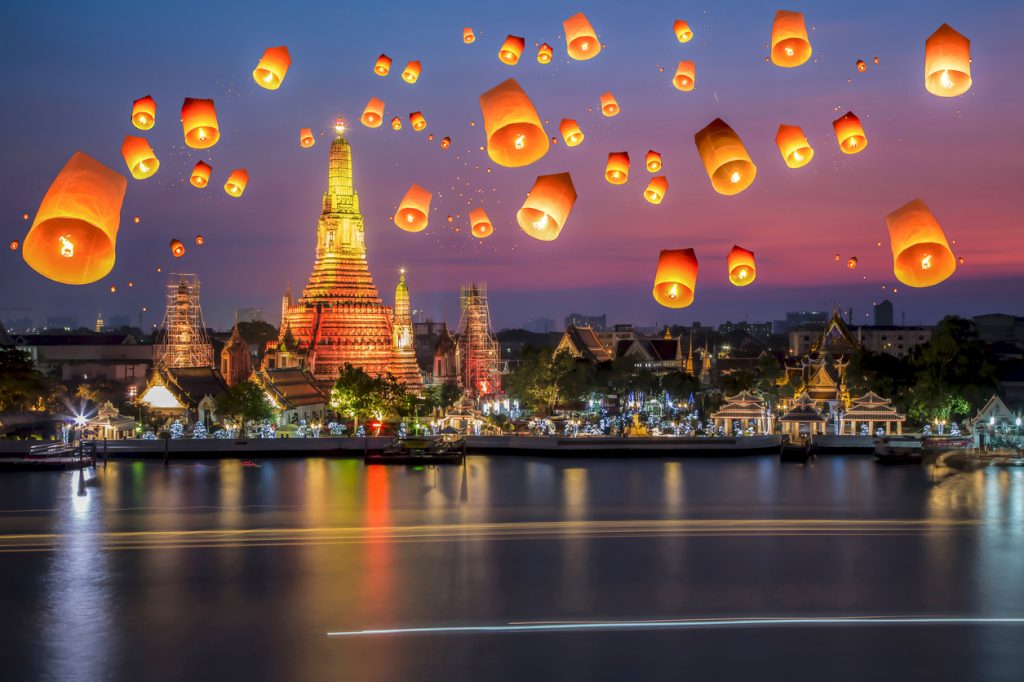 When it comes to planning a trip to Asia, there's nothing like traveling to Thailand! This Southeast Asian country, popular for its breathtaking beaches and bustling cities, is an ideal destination for new and veteran travelers alike.
With the help of the talented and experienced agents at WorldTravelService®, you will can enjoy the Thai trip of a lifetime! We will be able to arrange flights, accommodations, and activities for you and your travel companions in various locations across Thailand, including:
Bangkok
Thailand Islands
Chiang Mai
Kanchanaburi
Ayuthaya
Pai
And more!
As the second largest independently-owned agency in the Mid-Atlantic, we are confident that you'll find absolutely everything you need with the assistance of our travel booking agents.
Enjoy the vacation to Thailand that you've always dreamed of by booking your travel with WorldTravelService®.
Planning Your Trip to Bangkok
The capital city of Thailand, Bangkok, is one of the best-known destinations in the country. This enormous city is full of both people and opportunities! If you're looking for the ideal way to immerse yourself in Thai culture, a trip to Bangkok is a must. Whether you're looking to see towering skyscrapers, ancient palaces and temples, or busy marketplaces, Bangkok has got it all. Though some may automatically classify Bangkok as a "concrete jungle," the canals and tropical plant life throughout the city add just the right amount of natural beauty to this massive metropolis.
One of the best places to start is the popular Khao San Road, which is bursting with inexpensive dining, shopping, and entertainment options that will satisfy any type of traveler. Whether you're already sure of what you want to see when you get to Bangkok or you aren't sure where to start when planning your trip to Thailand, our team of skilled agents at WorldTravelService® is here to help. We'll plan just the trip you and your family (or your co-workers) have been dreaming of, without leaving out a single detail!
Traveling to the Thailand Islands
Prepare to be dazzled! The Thailand Islands boast some of the most beautiful shorelines in Asia and quite possibly in the whole world. Depending whether you're looking for white sand beaches, gorgeous rocky scenery, or a booming party scene, there are a few different islands to consider. The best-known of them is Phuket, the largest and most developed of the Thailand Islands. You can easily get to Phuket from the mainland of Thailand by bridge, making it a convenient excursion. You could also consider Ko Phi Phi, Ko Samet, Ko Chang, or a variety of other gorgeous islands off the coast of Thailand.
Unsure which of these island destinations is the right choice for you and your travel companions? Don't fret! The talented team of agents at WorldTravelService® will work with you to determine the best possible destinations to meet the needs and desires of your travel party. We'll plan every component of your trip so that all you have to do is show up and enjoy the experience!
Plan the Perfect Thailand Vacation & Excursions with WorldTravelService
®
The team of agents at WorldTravelService® is dedicated to ensuring your excursion meets all of your needs. We have the experience, resources, and connections to ensure proper safety measures are met and that your requests are made into realities. With WorldTravelService®, nothing is more important than your total satisfaction.
Book your vacation with a WorldTravelService® agent today to experience all the beauty and adventure that Thailand has to offer!