Booking Travel to Vietnam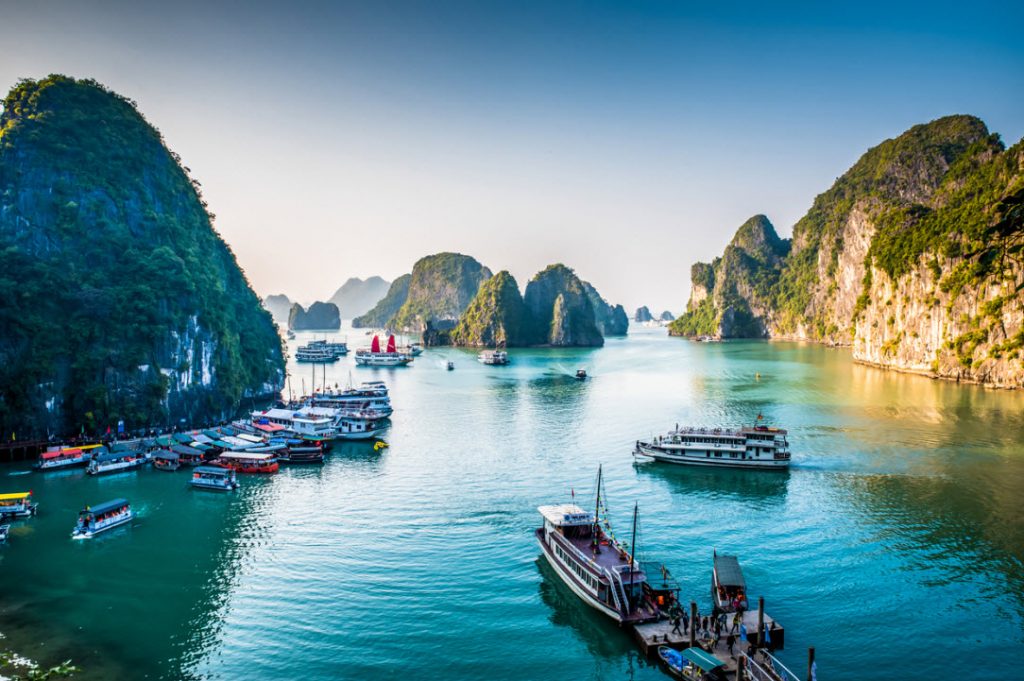 When the chance to visit Vietnam comes your way, you shouldn't pass it up. There's so much you can do on an adventure to this beautiful Asian country! From the charming Vietnamese capital of Hanoi to the bustling streets of Ho Chi Minh City, there's more to see and do in Vietnam than you could ever fit into a single trip.
That's why you need the help of a skilled travel agent from WorldTravelService®. With our team by your side, you can rest assured you won't miss a single worthwhile site in the Vietnamese cities you choose to visit. We can arrange flights, accommodations, and activities for you and your travel companions in various Vietnam locations, including:
Hanoi
Ho Chi Minh City
Hoi An
Hue
Nha Trang
Phan Thiet
Da Nang
And more!
As the second largest independently-owned agency in the Mid-Atlantic, we are confident that you'll find absolutely everything you need with the assistance of our travel booking agents.
Plan an eye-opening, fun-filled vacation to Vietnam by booking your adventure with WorldTravelService® today!
Planning Your Travels to Hanoi
The things to do in Hanoi vary widely. You might start by touring a few historic sites and museums for a real-life history lesson of this ancient country. Hoa Lo Prison is an eye-opening tour, and with signs posted in English, you don't even need a tour guide to understand the exhibits. The Museum of Ethnology is also worth a visit, with sculptures and samples to inform you about the diverse ethnicities that make Vietnam so eclectic.
You also can't miss the Old Quarter, Vietnam's Paris of the East. There, you'll enjoy bustling markets, delicious cuisine, and the chance to meet fascinating local people. Be sure to soak up a bit of nature at Hoan Kiem Lake, or Lake of the Restored Sword. Take a load off and relax amongst the beautiful scenery, or visit nearby street vendors selling their wares.
Whatever way you plan to spend your time in Hanoi, let WorldTravelService® work out the details. Then, all you have to do is catch your flight, check into your hotel, and enjoy your vacation!
Preparing a Trip to Ho Chi Minh City
Formerly known as Saigon, Ho Chi Minh City boasts much of what makes Vietnam worth visiting. Astonishing remnants of French colonial Indochina are certainly an impressive sight, but the Jade Emperor Pagoda offers the genuine Vietnamese architecture you're probably hoping to see the most.
For a bit of history through Vietnam's eyes, be sure to visit the War Remnants Museum. Then, visit the energetic Ben Thanh Market for everything from food to flowers to frogs. For an outdoor adventure, tour the Mekong Delta and see rice paddies and houseboats up close. You'll quickly find that taxis are one of the best options for seeing everything in this sprawling city.
Unsure which of these destinations will work best for you and your travel companions? Never fear – WorldTravelService® is here to suggest the best destinations for your interests and budget. We take care of everything on your behalf so you can have an enjoyable vacation without all the stress of making travel arrangements.
Plan the Perfect Vietnam Vacation & Excursions with WorldTravelService
®
The team of agents at WorldTravelService® is dedicated to ensuring your excursion meets all of your needs. We have the experience, resources, and connections to ensure proper safety measures are met and that your requests are made into realities. With WorldTravelService®, nothing is more important than your total satisfaction.
Book your vacation with a WorldTravelService® agent today, so you don't miss out on anything Vietnam has to offer!