Classic Vacation Special Offers
Virtuoso Benefits – Early check-in/late check-out, subject to availability.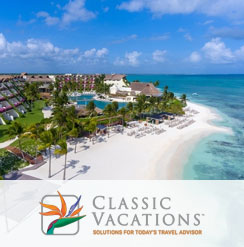 Classic Vacations is the #1 rated luxury vacation company exclusively for Travel Advisors. We have one goal: to do whatever it takes to ensure that your clients are not just satisfied with their vacation, but completely delighted. With Classic Vacations, guests will have access to a host of unique benefits, services, and attractions. Enjoy preferential treatment throughout your vacation. Whether it is a best-in-category hotel room, a last-minute appointment at a luxury spa, or tee times at world-class golf courses, you'll have an inside track to the best of everything.
Paradise awaits. So what are you waiting for? Call 800-526-1412 to learn more about booking Classic Vacations with the Mid-Atlantic's dedicated travel agency—or to book your dream vacation today.