Elite Group Travel Management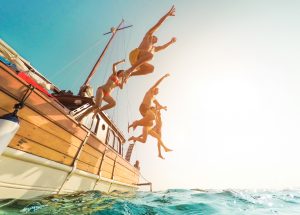 When you're planning a group travel excursion, details are everything. You can count on the group travel team at WorldTravelService® to expertly plan every last detail of your group trip and work to keep everyone on schedule and in sync.
We are committed to providing high-quality, cost-effective group travel management to clients throughout Washington, DC, Maryland, and Virginia, as well as Delaware, Pennsylvania, and West Virginia.
Ready to go on unforgettable VIP trip? Call 800-526-1412 and start packing your bags!
Your Expert Group Travel Planners
WorldTravelService® has a group and meeting management portfolio that includes:
Our dedicated group travel agents have a broad range of experience planning trips for parties of all sizes within the U.S. and internationally. Every step of the way, your assigned coordinator will answer your questions, address your concerns, and work to ensure that the needs of every member of your group are met.
At WorldTravelService®, we don't put your group into a pre-planned tour or agenda. You will receive specialized attention as we customize every detail of your group travel experience. Contact us online today to start planning!
Expect More with WorldTravelService
®
When you make us your group travel agents of choice in the Mid-Atlantic, your trip will be managed by a dedicated, expert group coordinator who will plan and negotiate:
Group airfare– Our strong relationship with our air partners allows us to negotiate airfares, often at rates far below the lowest promotional fare levels and without burdensome restrictions.
Hotel accommodations– Getting discounts at the best hotels is simple, as our worldwide hotel program with over 47,000 properties offers group discounts from 20 to 65 percent off.
Ground transportation and meeting facilities– We have a direct link to ground operations in more than 60 countries, providing local on-site travel and accommodations expertise at your group's destination.
Your travel arrangements will be tailored to your group needs and expectations while meeting your travel budget and reporting requirements. You and your companions will get group manifests to streamline all aspects of your trip, including air travel from multiple cities, hotel check-in, and ground transportation services. Online access to your group travel data is also available 24/7 through a secure Member ID and password.
You will have access to our group travel services at every stage of your trip—during planning, throughout your travel, at your destination, and afterward.
Begin your journey today! Let our VIP travel specialists manage the trip of your dreams. Contact us online today to start.
Travel with Your Team to Meetings & Conferences
WorldTravelService® also manages group travel arrangements for domestic and international conferences and conventions ranging from small executive training sessions to annual meetings attended by thousands.
Elite International Group Travel
Traveling abroad with a group is a singular experience—with lots of details and differences to manage. When you book international group travel with WorldTravelService®, you simply enjoy your trip and leave the details to us. We streamline every aspect of your trip, from passport services to currency exchange to booking English-speaking guides and transportation providers, if you require them. Our goal is to make your international group trip the experience of a lifetime.
Need to plan group travel from DC, VA, or MD? Let the elite travel experts plan your perfect trip. Contact us online to start the journey today!
Why Choose WorldTravelService
®

 for Group Travel?
Luxury Group Travel From MD, DE, PA, NJ, WV, or PA
There are a few things that differentiate us from your average group travel planner in the Mid-Atlantic:
Simplicity. Your expert assigned coordinator will help put together a seamless travel itinerary complete with options for things like meal planning, transportation, special accommodations, and multiple points of origin. We address the essentials so that you can simply enjoy your trip.
Ease of planning. As part of the world's largest global distribution system, which is used by 70 of the world's leading airlines, we have access to a nearly unlimited range of route options, discounts, and amenities. This makes it easy for us to plan your trip and offer perks that unaffiliated agencies are not afforded.
Responsive service. Access to your complete travel plans is available online 24/7 for everyone, no matter where you or your companions are worldwide. You will also be provided access to a 24/7 emergency contact, in the event that you require immediate assistance outside of regular business hours.
Dedication. We always place the customer's satisfaction and sense of security above every other business consideration. We establish strong, mutually beneficial relationships with suppliers of the highest quality products and services.

Book Your Group Trip Today
Thousands of happy travelers entrust their group travel needs to us. We hope you'll give us the chance to show you why we are considered simply the best.
Call us today at 800-526-1412 to start your group travel experience with your trusted DC-area group travel planners!
---
800-526-1412

Click Here for NIH Reviews