Corporate Incentive Travel Planners

Travel Incentives for Senior Partner Retreats, Corporate Retreats, and All Your Corporate Group Travel Needs
Corporate retreats, incentive cruises, and other incentive travel are effective business tools for promoting teambuilding as well as motivating or rewarding your employees and nurturing relationships with business partners. However, the planning, logistics, and reporting that go into corporate group travel can be complex. Using a group travel agency like WorldTravelService® will ensure that no detail is overlooked when it comes to delivering high-quality and cost-effective travel incentives for your business or organization.
Whether you're interested in domestic or international travel; a cruise or all-inclusive corporate retreat—from five to 500 employees—our incentive travel team provides comprehensive professional travel management services for groups and conferences of all sizes. We'll handle all your travel arrangements while adhering to your budget and reporting requirements.
Ready for us to take care of all your corporate travel incentives and programs? Contact our corporate incentive travel agents in the MD, VA, and DC area to plan your next trip.
Our Corporate Incentive Travel Services – from Washington, DC to anywhere in the world!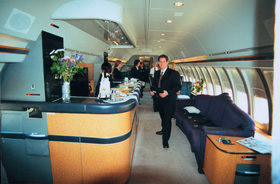 We can help with all aspects of your corporate retreat or travel incentive program—from site selection to air transportation and hotel accommodations to scheduled activities and more. Your trip will be managed by a dedicated, expert incentive travel coordinator based in the Washington, DC area who will plan and negotiate:
Group airfare – Our strong relationship with our airline partners allows us to negotiate air fares, often at rates far below the lowest promotional fare levels and without burdensome restrictions. Our agents are also experts in international business travel, should you choose an exotic location for your corporate incentive travel program. The Caribbean, Bahamas, Jamaica, and Aruba are extremely popular destinations for corporate retreats, while locations like China, South Africa, and Cambodia are becoming increasingly popular.
Hotel and resort accommodations – Getting discounts at the best hotels is simple with WorldTravelService

®

incentive travel planners. Our worldwide hotel program features over 47,000 properties offers group discounts from 20 to 65 percent off.
Ground transportation and meeting facilities – We have a direct link to ground operations in more than 60 countries, providing local on-site travel and accommodations' expertise at your group's destination.
Your travel arrangements will be tailored to your group needs and expectations while meeting your travel budget and reporting requirements. Your travelers will get group manifests to streamline all aspects of your trip, including air travel from multiple cities, hotel check-in, and ground transportation services. Online access to your group travel data is also available 24/7 through a secure member ID and password.
You will have access to our services at every stage of your trip—during planning, throughout your travel, at your destination, and afterwards.
Featured Incentive Travel Idea: Incentive Cruises
A popular program idea among corporate travel programs, incentive cruises typically offer:
Stateroom accommodation
Gourmet dining
Onboard entertainment, including Vegas and Broadway style performances
Reserved meeting and event space
Discos, clubs, and bars
Transportation to ports of call
Pools, water sports, beach excursions (depending on route and destinations)
Fitness centers, exercise classes, spas
Movies (theater and in-room)
WorldTravelService®, and our team of expert incentive travel planners, has exclusive relationships with our cruise providers that often allow us to negotiate special deals and amenities.
Whether you're looking to recognize sales achievements or provide an exotic background for in-depth training and education, consider an incentive cruise.
Choosing a Travel Agency for Corporate Incentive Travel from the DC Area
As the second-largest independently owned travel management company in the Mid-Atlantic region, we commit our financial strength, technological capabilities, and outstanding staff to providing the most reliably exceptional service to our clients. With seven agency locations throughout Washington, DC, Maryland, and Virginia, WorldTravelService® serves a number of large corporate clients throughout the Mid-Atlantic region, including Delaware, Pennsylvania, and West Virginia.
As a WorldTravelService® corporate client, you'll have a dedicated agent assigned to your account, backed by an international network of seasoned travel professionals and failsafe technological systems. Your incentive travel program will be tailored to your company's needs, with your budget and other considerations are always top of mind. We place your satisfaction and sense of security above all else. You'll rest easy knowing that we are handling all the details before, during, and after your corporate retreats or trips.
Contact WorldTravelService® today to put your business incentive travel program into capable hands. Call 800-676-3796 for more information on our corporate incentive travel program from Maryland, Virginia, and Washington, DC.

Find an Incentive Travel Program Planner & Agent Near You
6010 Executive Blvd, Suite 202
Rockville, MD 20852
Phone: 800-724-9701 Press 1 then Ext. 1
1200 18th St NW, Suite 600
Washington DC 20036
Phone: 800-724-9701 Press 1 then Ext. 2
Executive Plaza II, Suite 102
11350 McCormick Road
Hunt Valley, MD 21031
Phone: 800-724-9701 Press 1 then Ext. 5
31 Walker Ave, Suite 100
Baltimore, MD 21208
Phone: 800-724-9701 Press 1 then Ext. 6
650 Ritchie Highway, Suite 101
Severna Park, MD 21146
Phone: 800-724-9701 Press 1 then Ext. 7
5875 Trinity Parkway, Suite 160
Centreville, VA 20120
Phone: 800-724-9701 Press 1 then Ext. 3
1801 Robert Fulton Dr, Suite 330
Reston, VA 20191
Phone: 800-724-9701 Press 1 then Ext. 4