Norwegian Cruise Line
Freestyle Cruising is all about giving you the freedom of choice to have your style of vacation. Relax or be adventurous. Eat a burger or filet. Dress up or go casual. And never have a fixed schedule or restriction to slow you down. It's your vacation, so make sure it's exactly what you've been daydreaming about. You'll find Norwegian Cruise Line's fleet of new ships have everything you need to have a perfect cruise vacation. Some ships offer The Haven – a ship-within-a-ship — the largest Villas suite complex at sea. Each elegant suite and villa in The Haven provides you with the finest amenities, and the expert services of our concierge and 24-hour butlers. Step outside your residence and you'll enter a secluded Courtyard where you can spend your sea days relaxing, dining, and enjoying exquisite privacy.
Up to $300 Onboard Credit Per Stateroom on Select Sailings
3-7 Night Sailings: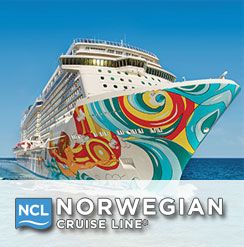 Oceanview $25
Balcony $50
Mini-Suite $75
Suites & Haven $100
8+ Night Sailings
Oceanview $50
Balcony $100
Mini-Suite $150
Suites & Haven $200
Europe Sailings:
Oceanview $75
Balcony $150
Mini-Suite $200
Suites & Haven $300
Free at Sea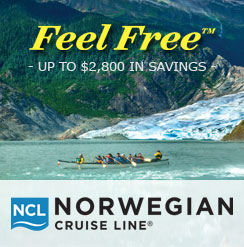 Applicable Sailings: All 3+ Day Cruises Fleetwide
Studios & Insides: Pick 1 Offer
Oceanviews, Balconies, Mini-Suites: Pick 2 Offers
LIMITED TIME! Balconies & Mini-Suites: Take All Offers (up to 5), valid July 10, 2019 – July 19, 2019 11:59 pm EST
Concierge, Suite & Haven: Get up to 5 Free Offers
Choose from:
1. Premium Beverage Package
2. Specialty Dining Package
3. 250-Minute Internet Package
4. $50 Per Port Shore Excursions
5. 3rd & 4th Guest Free (select sailings)
* select sailings.  Contact us for more information. 
The beauty of sailing with Norwegian Cruise Line is all our ships are built to offer freedom and flexibility to all our guests. With Freestyle Dining®, we do not have set dining times or set tables, and we offer a variety of complimentary and specialty restaurants on board so guests are free to dine where they want, when they want. That gives them the freedom and flexibility to follow their every whim. Your guests want the kind of vacation they'll talk about for years to come and we want them coming back again and again. When they take to the sea with Norwegian, they'll find out what it means to Feel Free.