Plan Your Group Trip
Need to plan a group trip? WorldTravelService® has the group travel planning expertise you need! Our dedicated travel agents and trip planners have years of experience organizing travel for groups of all sizes.
The WorldTravelService® Difference

Customized
Service

Service and travel plans tailored just for you.

Knowledge

Destination expertise,
special rates, and more.

24/7
Assistance

Help for any issue, at
any time, any place in
the world.

Peace
of Mind

Less worry,
more travel.

Get Started
Get Started Planning Your Group Trip Today!
Ready to start your group travel planning? Use these quick links to get started!
Your Group Travel Planners in DC, MD & VA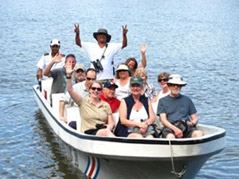 At WorldTravelService®, our group travel planning experts have a broad range of experience planning trips for parties of all sizes within the U.S. and internationally. We plan group travel for:
Celebrations—birthdays, anniversaries, bachelor/bachelorette parties
And more!
Every step of the way, your assigned coordinator will answer your questions, address your concerns, and work to ensure that the needs of every member of your group are met.
Why Plan Group Travel with WorldTravelService
®

?
Customized service. An experienced agent is assigned to your group's travel account and makes your needs and preferences their utmost priority. We take the time to get to know you and tailor your trip plans to best suit your group travel needs.
Knowledge and benefits. We are partnered with the world's largest global distribution system, which is used by 70 of the world's leading airlines, including Air France, British Airways, Lufthansa, and United. Our partnership gives us access to a nearly unlimited range of route options, discounts, amenities, and other perks that consumers and unaffiliated agencies are not afforded.
24/7 assistance. We all know sometimes travel doesn't go as planned, but you can rest assured that you will have the ability to reach our team 24/7. You can get help for any issue, at any time, any place in the world.
Peace of mind. Know that every aspect of your trip has been meticulously planned and expertly coordinated by our group travel agents so you can focus on enjoying your trip!
Get Started with Your Group Travel Planning Today!
When you're looking for group travel agencies to help with your trip, you can be confident in your choice to partner with WorldTravelService®. We'll help make your group trip successful from start to finish!
Call us today at 800-526-1412 to start planning your group travel today!