Princess Cruises
Browse through the wide selection of Princess Cruises to find the best option for your budget and desired vacation dates. If you have any questions about cruises or would like one of our travel experts to guide you through the booking process, contact WorldTravelService® online, or call us at 800-676-3796. We are always happy to offer assistance and help you plan the travel experience of your dreams.
getaway Sale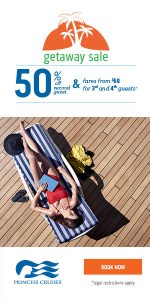 During our Getaways Sale, get 50%‡ off the second guest plus, fares from $69 for 3rd & 4th guests‡‡. All getaways are 5-days or less making them a great escape at an even better value! Choose from select 1 to 5 day cruises sailing Winter 2019 – Spring 2020 to Mexico, California Coast, Canada & New England, and the Caribbean.
Offer
50% off your second guest‡
fares from $69 for 3rd and 4th guests‡‡
50% off second guest‡ offer is based on first guest at 100% fare, and second guest at 50% fare in same stateroom. Savings is based on a per person discount off applicable Launch Fares on a space-available basis at time of booking on select sailings. Launch Fares are offering fares and may not have been in effect for the past 90 days or resulted in actual sales in all categories. Intermediate discounts may have been taken and fares may remain at discounted levels after this promotion.
3rd or 4th guest fares‡‡ apply to the 3rd or 4th guests booked in the same stateroom as the first and second guests and apply to minimum lead-in categories on a space-available basis at time of booking. Fares for other categories may vary. This offer has limited space regardless of stateroom availability and subject to combinability limitations.
Note: For assistance reserving a wheelchair-accessible stateroom, please call 1-800-774-6237.
Offer valid: August 1 – August 30, 2019 on voyages in this sale only.
Reference promotion codes: KS1
©2019, Princess Cruise Lines, Ltd. Ships of Bermudan and British registry.