Regent Seven Seas
Enjoy The Most Inclusive Luxury Cruise Experience Ever. This is cruising as it was meant to be — a world where everything is included, without exception and without compromise. Personal service soars into the sublime aboard our elegant ships, liberating you to follow your heart, fulfill your desires, and explore exciting new places in complete and absolute comfort. Expect gratifying luxuries. Anticipate the world's most exotic destinations. Indulge in world-class cuisine. Trust that your voyage will be enlightening in ways you never imagined. Regent Seven Seas Cruises promises an extraordinary experience. Enjoy … It's all included.
Price Advantage – Special Locked in Prices
Amenity Advantage – Shipboard or Spa Credits & Pre-Paid Gratuities*
Virtuoso Benefits –  Virtuoso Voyager Club event or up to $175 custom credit, welcome reception & onboard Virtuoso host on select sailings *
LIMITED TIME ALASKA SAVINGS
UP TO $1,500 PER SUITE PLUS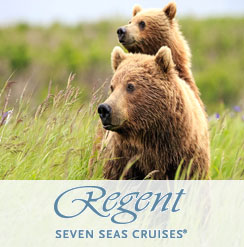 ENJOY UP TO A $500 SHIPBOARD CREDIT
For a limited time, book your all-inclusive 2019 Alaska cruise and SAVE up to an additional $1,500 per suite on select voyages — PLUS, you'll enjoy up to a $500 Shipboard Credit! Witness the iconic wildlife, experience the frontier culture and use your Shipboard Credit to pre-book a Regent Choice shore excursion like a helicopter ride over glistening glaciers. Indulge in the sophisticated comfort of the intimate, 350-suite, all-balcony Seven Seas Mariner® where every luxury is included. With FREE Unlimited Shore Excursions, roundtrip air, gourmet dining, fine wines and spirits, Kids Sail special pricing and so much more included, there is no better way to experience Alaska than with Regent Seven Seas Cruises®.
* select sailings.  Contact us for more information. 
LIMITED TIME ALASKA OFFER: Up to $1,500 Savings offer is capacity-controlled, may be withdrawn at any time and applies to new bookings only made starting 1/28/19. Offer applies to U.S. and Canada only and is combinable with standard published promotional offers including Time to Explore $500 Shipboard Credit offer, however, is not combinable with Canadian Dollars at Par or Ultimate Alaska. On the July 3, July 13 and September 18, 2019 voyages aboard Seven Seas Mariner®, guests will receive $750 USD Savings per person, up to $1,500 USD per suite. On the July 31, August 7, August 14, August 21, August 28, September 4, and September 11, 2019 voyages aboard Seven Seas Mariner®, guests will receive $500 USD savings per person, up to $1,000 per suite. Offer is valid only for Suite Categories from Deluxe Veranda Suites through Penthouse Suites (Category A-H) on applicable voyages. Mention "ALASKA SAVINGS" at time of booking. TIME TO EXPLORE: Offer is capacity-controlled and applies to new bookings only made between 1/7/19 and 3/31/19. Offer is combinable with standard published promotional offers, however, is not combinable with Canadian Dollars at Par or Ultimate Alaska. Offer is combinable with National Account Amenities, Group Pricing, Group Amenities and will count toward TC. On the May 26, June 5, June 12, July 3, July 13, July 24, July 31, August 7, August 14, August 21, August 28, September 4, September 11, September 18 and September 30, 2019 voyages aboard Seven Seas Mariner®; the May 4, May 14, May 24, July 2, July 22, July 29, August 9, August 19, August 29, and October 8, 2019 voyages aboard Seven Seas Voyager®; and the June 25, July 2, July 12, August 20 and August 30, 2019 voyages aboard Seven Seas Explorer®, guests will enjoy a $500 USD Shipboard Credit per suite when they book between 1/7/19 and 2/15/19. On the same voyages, guests who book between 2/16/19 and 3/31/19 will enjoy a $250 USD Shipboard Credit per suite. Shipboard Credit is per suite, non-transferable and may not be redeemed for cash. Offer may be withdrawn at any time. Mention "TIME TO EXPLORE" at time of booking. Ships' Registry: Bahamas. ©2019 Regent Seven Seas Cruises®