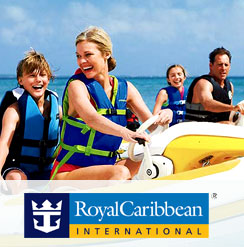 Even before you reach your destination, you're going to be amazed at what you see – your cruise ship.
Royal Caribbean's cruise ships are the most innovative and exciting in the travel industry.
Rock-climbing walls on every ship
Elegant dining rooms
Relaxing spas
Amazing service
Signature Gold Anchor Service
Ports: We visit over a hundred ports of call, in some of the world's most breathtaking locations.
Alaska
Canada
New England
Europe
Mexico
Hawaii
Caribbean
Panama Canal
Bermuda
Bahamas
Perks of Traveling with Royal Caribbean
With Royal Caribbean cruises, the experience is unlike any other. Enjoy benefits ranging from:
Exciting shore excursions – from action-packed adventures to sightseeing and culinary arts
State-of-the-art luxury cruise ships
Flexible dining options from elegant to casual
Late-night casinos
Shows and nightlife
Special celebrations for weddings, birthdays, anniversaries, and life's big milestones
Why Book with WorldTravelService
®
Let us help you sail away into luxury without the stress of planning. WorldTravelService® will connect you with a dedicated travel agent who will take care of the fine details.
How we help:
Find you the most affordable flights & hotels
Provide you with $200, 000 in free flight insurance
Give you unique access to a Virtuoso membership Premium Benefits & Discounts
Check Out Royal Caribbean Sailings
<iframe src="https://secure.latesttraveloffers.net/lton/ltonclct.asp?distributorcode=GWTSER&amp;distributoraccount=RCCL+Groups&amp;searchid=50826″ width="300″ height="150″></iframe>
Paradise awaits. Call 800-526-1412 to learn more about booking Royal Caribbean cruises with the Mid-Atlantic's dedicated travel agency— and book your dream vacation today!