Booking Travel & Excursions to Ecuador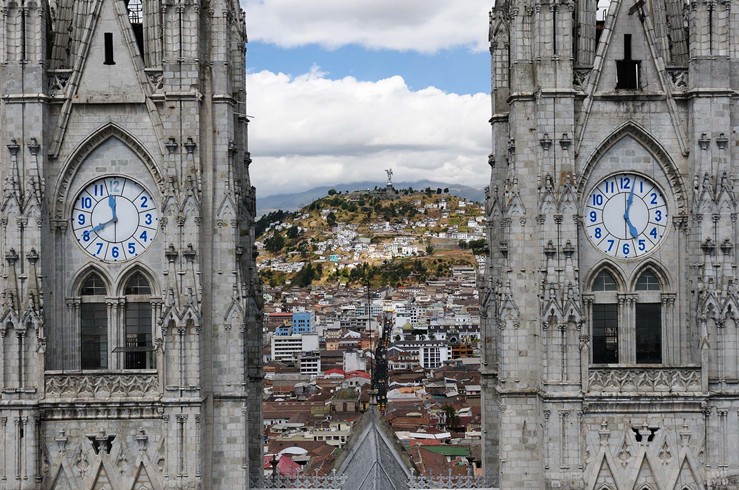 Whether you're a first-time traveler, or a seasoned sightseeing enthusiast, there's a lot to be excited about when planning a trip to Ecuador. In order to get the most out of your travel, take advantage of the services offered by the experienced agents at WorldTravelService®. We can help plan every inch of your adventure, saving you the stress of logistics and optimizing your trip to scenic locations of areas such as:
The Galápagos Islands
Guayaquil
Quito
Cotopaxi
Cuenca
And more!
WorldTravelService® is the second largest independent agency in the entirety of the Mid-Atlantic, and as such we can wholeheartedly guarantee your travel will be fulfilling and flawless, every time.
Begin your adventures in Ecuador by booking with our seasoned agents at WorldTravelService®!
Planning Your Travel to Ecuador
The entirety of Ecuador is culturally rich, gorgeous, and perfect for an ideal leisure travel event. View stunning and unique animal life on an excursion to the Galápagos Islands, find a thrill in whitewater rafting and kayaking in Tena, or even relax on horseback for a ride through the Andes Sierra.
No matter where your interest lie, be it adventure or pure relaxation, our expert agents can help you find, plan, and execute your ideal excursion to perfection. With our team at your side, you'll have access to travel opportunities including:
Luxurious cruises
Treks and tours
Wildlife excursions

Exclusive spa retreats
And much, much more!
Booking a Trip to Quito, Ecuador
The highest official capital city in the world, San Francisco de Quito is positively rich with preserved culture, sprawling and gorgeous historic locations, and a vast variety of activities to suit any tastes. View grand church structures like the famous la Compañía and take in the sheer history of one of the largest and best-preserved historic centers in South America. Or if history isn't to your tastes, take advantage of the city's excellent food venues, relaxing spas and hotels, or shop to your fill in one of many excellent commercial districts by day, and join in vibrant festivities by night.
Ready to explore Quito? Speak with an agent today to begin booking the vacation of a lifetime.
Planning Your Trip to the Galápagos Islands
This volcanic archipelago is one of the world's foremost and most awe-inspiring locations for wildlife viewing and adventure. Each and every island is unique, from volcanic rock and barren planes, all the way to beaches surrounded by alabaster-white sand. These diverse islands serve as a perfect location for a wide array of habitats that play host to everything from adorable penguins to wizened sea turtles. A trip to the Galápagos Islands is an absolute must for any traveler, new or experienced. Our agents can help you find the ideal cruise or tour, sure to provide excitement and luxury to travelers of all types.
Worried About International Leisure Travel? Let WorldTravelService
®

Take the Reins

The planning, logistics, and paperwork involved in international travel can rapidly bog down your trip, turning an ideal getaway into a runaway nightmare. Avoid the stress by allowing our seasoned agents the opportunity to provide you with all you need to sit back and simply enjoy your Ecuador adventure. Everything from translators, experienced local guides, hotel reservations, and even currency exchange will be handled by our professionals, you don't have to fret!

Ready to begin the excursion of a lifetime? Contact the agents at WorldTravelService® or give us a call at 800-526-1412 to get started!