WorldTravelService
®
is proud to partner with
Virtuoso
, which gives our clients in the DC area and throughout the Mid-Atlantic access to exclusive deals, amenities, and upgrades. Our partnership with Virtuoso also gives us access to their entire network, including
Oceania Cruises
, so you can have even more choices when it comes to booking your next luxury cruise. The Oceania cruise experience is one-of-a-kind—see the benefits below or
contact us
to book an unforgettable vacation.
The Oceania Cruise Experience
When you book with Oceania Cruises, you'll receive a number of benefits that include:
A wide range of diverse destination choices
Free unlimited soft drinks, water, teas, and juices
Access to all-inclusive cruises for unlimited beverages, Internet, and offshore excursions
Free airfare guaranteed
24-hour butler service for cruise goers staying in suites
Multiple options for gourmet dining
Canyon Ranch SpaClub

®

for spa treatments and cuisine
Oceania Club Rewards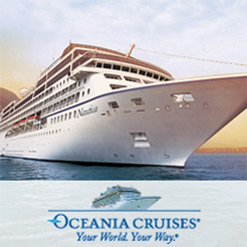 Just one Oceania cruise allows you to enjoy the exclusive benefits of Oceania membership, such as:
Exclusive price discounts or complimentary amenities
Access to the Exclusive Club party hosted by the ship's Captain
Access to exclusive mailings about future cruises and promotions
And more
Once you've cruised with Oceania five times, you will become a Bronze member and receive $200 in ship credits per stateroom until your 10
th
cruise. At that point, you'll be awarded Silver status, which gets you a $400 credit per stateroom as well as complimentary cruises through your 14
th
cruise. Your 15
th
cruise will then bring you to Gold membership and a $500 credit per stateroom plus two free spa treatments along with gratuity. On your 20
th
cruise, you'll reach the highest status of membership and become a Platinum member. Platinum Oceania members receive a free cruise, two complimentary spa treatments and shore excursions, and free gratuity for all cruises from then on. (Some restrictions apply.)
Let Us Help You Book Your Oceania Cruise!
Our partnership with Virtuoso allows our clients to enjoy the best Oceania cruises, along with last-minute travel deals, upgrades, and amenities. With us as your travel agency, you will also get exclusive access to:
Secure online financial reporting
Unlimited changes
Our low fare search engine
$200,000 in free flight insurance
A dedicated travel agent
And so much more!
Experience the endless benefits that come with booking your Oceania cruise through WorldTravelService
®
and enjoy the vacation of a lifetime—plus the extra perks for future cruises!
Call us
at 800-676-3796 for questions or to book your trip today.